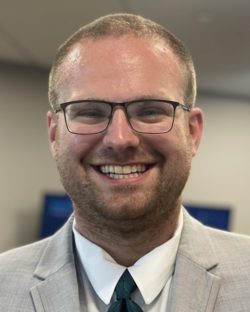 Austin Anderson
Interim Program Coordinator, Communications Arts Department
Austin Anderson is the Interim Program Coordinator of Judson's Communications Arts Department. Austin has taught Introduction to Sports Broadcasting/Sports Information, Questions of Life: Entering the Judson Conversation, Foundations of Speech, and Wellness as an adjunct professional within Judson's Demoss Center of Worship in the Performing Arts since 2021. In his new role, Austin will teach public speaking, communication, media, and sports broadcasting while also advising students within the Communication Arts Program.
Austin will work with Judson's broadcasting team to create a new Podcast Studio during the 2023-24 academic year. The goal of the Podcast Network is to create new podcasts and train students to create their own podcasts.
Austin Anderson moves into this new role having served for two years as the Director of Sports Information and five years as the Director of Athletic Communications for Judson's Athletic Department. During his tenure with Judson's Athletic Department, Anderson managed judsoneagles.com, wrote departmental press releases, managed social media content, oversaw Judson athletics history (records and awards), was responsible for game broadcast management, and was the event planner for the annual Hall of Fame and the JUISY (Judson University Impressive Stars of the Year) award ceremonies.  While at Judson, Anderson has received national recognition for his work and is a three-time top-10 finisher in the annual NAIA-SIDA publications/media contests.
During his time at Waynesburg University, he was active in the campus television station, newspaper, and radio station. He also pursued various broadcasting opportunities outside of Waynesburg, including being an announcer for the Westmoreland Sports Network during his senior year.
Anderson served as an official scorer and alternate play-by-play announcer for the Schaumburg Boomers independent baseball team from 2018-2019. During the summer of 2017, he was the Broadcast/Media Relations Assistant for the Gary SouthShore RailCats independent baseball team. He also has served as the Broadcast and Sales Intern for the Chicago Bandits professional softball team in Rosemont.
B.A. from Waynesburg University (2017)
M.A. in Strategic Communication and Leadership from Spring Arbor University, May 2021