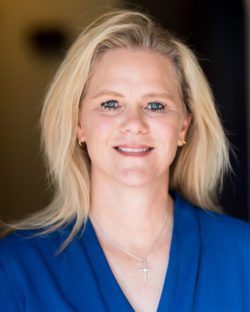 Nikki Fennern
University Executive Vice President
Dr. Nikki Fennern has been a leader in the higher education industry for over 20 years. Currently, Dr. Fennern serves as the Executive Vice President at Judson University in which she oversees adult, online, graduate, and traditional enrollment; financial aid; marketing; and intercollegiate athletics. During her time at the university, she has analyzed and implemented campus initiatives strategically and holistically while collaborating with each area of the university to advance strategic goals and vision.
Dr. Fennern is currently leading an initiative to reorganize the university's online, adult, and graduate programs to move operations from an external partner to internal control. She collaborates with external constituents to develop strategic partnerships for adult, graduate, and undergraduate enrollment. Through a campus-wide approach to recruitment, incoming classes have met deposit and budget goals while meeting or exceeding institutional discount rate goals. Dr. Fennern has also been involved with university-wide strategic planning, reaccreditation processes, and developing campus-wide corporate sponsorships. Intercollegiate athletics has seen growth in student-athletes, competitive success, and the launch of a football program while attending to building a strong culture integrated into the whole of the university. Dr. Fennern oversaw the construction of an artificial turf soccer/football field and practice track and has taught as an adjunct professor in the Exercise and Sport Science department.
Prior to Judson University, Dr. Fennern served as the Vice President for Enrollment Management at Iowa Wesleyan University. There, she led the enrollment division which included admission, financial aid, and intercollegiate athletics. During her tenure, she restructured recruitment processes and developed a campus-wide plan to grow undergraduate enrollment through strategies collaborating with academics, admissions, international recruitment, and athletics. She co-chaired the university-wide Persistence and Completion Council. The university achieved deposit goals and persistence goals and grew overall enrollment during her tenure. In conjunction with the athletic director, she helped to lay the groundwork for starting men's and women's wrestling and moving the athletic department from NCAA Division III to NAIA.
As an athletic director at Saint Mary's University, Dr. Fennern oversaw the administration of 21 athletic programs. During this time, the athletic department saw significant increases in student-athlete recruitment, operating and capital fundraising, student-athlete academic success, and community service – with the department receiving the highest award in NCAA Division III for community service. Dr. Fennern served on numerous campus, conference, and national committees such as strategic planning, HLC reaccreditation, NCAA Division III softball committee, and various athletic conference committees. She also taught as an adjunct professor for sport management. Dr. Fennern was named the 2016 Women Leaders in College Sports (formerly National Association of Collegiate Women Athletic Administrators) NCAA Division III Administrator of the Year, received the Minnesota Coalition for Women in Athletic Leadership Breaking Barriers Award in 2018, and was recognized as a Minnesota Intercollegiate Athletic Conference Title IX Trailblazer in 2022. As a head college softball coach for six years, Dr. Fennern amassed a 142-59 record and led her team to two NCAA regional tournaments and one National Tournament – finishing fourth.
Dr. Fennern earned a doctorate in Educational Leadership from Saint Mary's University, a master's degree in Health, Physical Education, and Recreation: Athletic Administration from South Dakota State University, and a bachelor's degree in Secondary Education from the University of Wisconsin – River Falls.