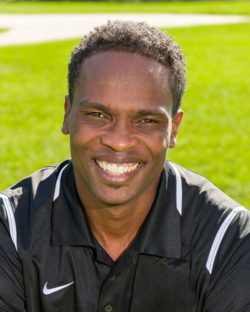 Rick Williams
Athletic Director
Alumnus Rick Williams joined Judson University as Director of Athletics in July of 2022. Previously, Williams served Elgin Academy as the Athletic Director and Head Men's Basketball Coach since 2016 and as the Upper School Dean of Students since 2020. As the Athletic Director, Williams has innovated and implemented the PACK (School Spirit) program designed to provide cross-divisional support to athletes. Additionally, he oversaw numerous improvement projects while at Elgin Academy. This included a full equipment and uniform overhaul, updating indoor and outdoor athletic facilities, and helping with digital platform changes including social media and website updates to represent Elgin Academy Athletics.
As the Upper School Dean of Students at Elgin Academy, Williams developed and implemented a leadership discussion group (LEAD) that encouraged students to grow in leadership skills in listening, engaging accountability, and discipline. He also was a charter member of many organizations at Elgin Academy, including the Social-Emotional Learning Committee, the AIM team focusing on diversity and inclusion, and the student support team that works towards weekly discussions on the well-being of the student community.
As the Head Coach of the Men's Basketball Program for the Hilltoppers, Williams took over a winless program and increased in win total each year. Additionally, in 2019 he led Elgin Academy to its winningest season since 1996 as the team advanced to the 1A Regional Semifinal that season. Additionally, Williams served as the founder and program director for the AGB Hawks Basketball program, which housed teams for both boys and girls at the 7th-11th-grade levels, from 2011 to 2019.
Williams is 10th in all-time scoring for the Judson University Men's Basketball Program with 1474 career points in 116 games played. He is also top 10 in program history in field goals made (573), total rebounds (636), blocked shots (80), total steals (219), and games played (122). His 77-steal campaign in 2001-2002 ranks tied for fourth in program history and his 34 games played in 2001-2022 also ranked sixth in program history. In his senior season, Williams was on the Eagles team that finished with the third-most wins in program history (19).