Judson University inducted four new members into the 2022 Athletic Hall of Fame during Homecoming and Family Weekend on Saturday, September 24, during a ceremony held on campus. The class included Vusa Nkomazana (Men's Soccer 1999), Landon Skinner (Men's Basketball, 2012), Lana Rasmussen (Women's Volleyball, 1998), and Matt McHenry (Baseball, 2012).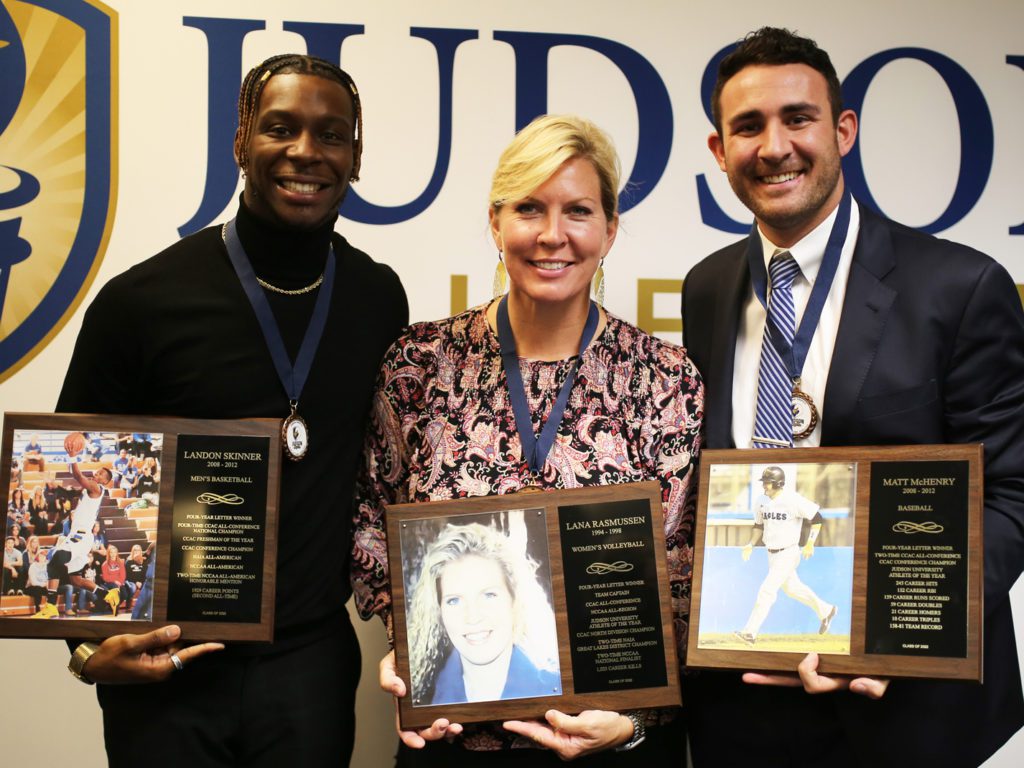 Vusa Nkomazana (not pictured) of Johannesburg, South Africa, was a key defensive player for Judson during the 1995-1997 seasons, lettering in all three seasons. In his first year as an Eagle, Nkomazana led Judson to a NIIC Conference Championship and an NCCAA National Championship. His efforts helped him earn NCCAA 2nd Team All-American honors. In 1996, he was a member of the NCCAA All-Tournament Team as the Eagles finished in fourth place overall. 1997 was arguably his best season as he was named NCCAA National Tournament Most Valuable Player and named to the All-Tournament team. In addition, he was an NCCAA Honorable Mention All-American. Once again, the Eagles finished fourth in the NCCAA National Tournament through the efforts of Nkomazana. Vusa was unable to attend the event but recorded a message for attendees.
Landon Skinner (pictured above on the left) of Los Angeles, was the leader of some of Judson Men's Basketball's most successful programs in program history. He ranks second all-time in Judson history with 1929 career points, games played with 124, and free throws made (468). He ranks third with 691 field goals made and fifth in program history in assists (383) and steals (164). He is a four-time CCAC All-Conference member, an NCCAA All-American second team and honorable mention, and was CCAC freshman of the year. He was the key leader in the 2009-2010 CCAC Championship Team, the last conference title for Judson Men's Basketball.
Lana Rasmussen Smith (pictured above in the center) of St. Charles, Ill., was a part of one of the winningest stretches of volleyball in school history. During her underclassmen years, the four-time letter winner was a part of the 1994 and 1995 NAIA Great Lakes Sectional Championship Teams and the NCCAA National Tournament Teams that finished fifth in the nation. In 1996-1997, she was the team captain and led the team with 421 kills (ninth in a single season) and led the team with 377 digs. During her senior season, she helped Judson win the CCAC North Division with 403 kills and 406 service aces. She was an NCCAA All-Region Member, a CCAC-All-Conference member, and the team captain. She was named the 1998 Judson Female Athlete of the Year for her efforts. She ranks seventh in program history with 1,023 total kills and ranks ninth in hitting percentage with a .243 mark.
Matt McHenry (pictured abve on the right above) of Loch Lloyd, Mo., was a part of the beginning of the modern success of Judson baseball as he was a member of the 2012 baseball team that made Judson's first NAIA postseason in that decade and only the second appearance ever. During that run, he led the team in numerous categories. He had 83 hits (third all-time single-season), 52 RBI (ninth all-time), 21 doubles (third), nine home runs (ninth), 221 at-bats (eighth), and he was third in the team in runs scored with 47. He was named the Judson Male Athlete of the Year as well as named CCAC First-Team All-Conference. During his freshman year (2009), he tied the single-season record with seven triples. In 2010, he was an all-conference player as he hit .347 with 59 hits in 170 at-bats.