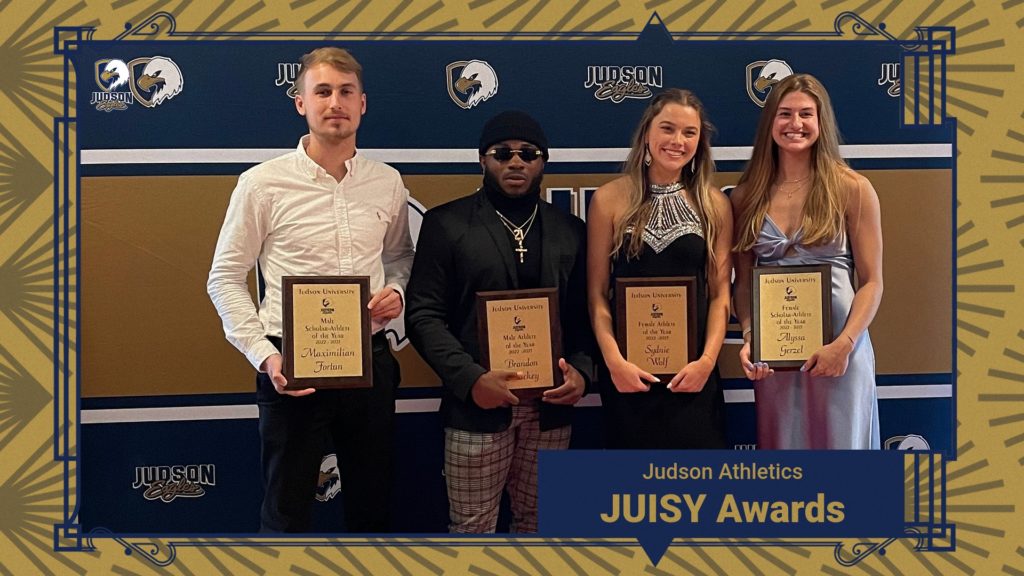 The 2023 Judson University Impressive Stars of the Year (JUISY) Awards held on Sunday, April 30, recognized 16 individuals for their outstanding contributions to the Judson University Athletic Department.
The ceremony's most prestigious awards are the Doc Ryder Scholar Athletes of the Year and the Athletes of the Year.
The female scholar-athlete of the year is Alyssa Gerzel of Women's Volleyball. Gerzel, a biology major, has a nearly perfect GPA and continues to excel on the court. She had 446 kills this year, 384 digs, and 44 service aces. She also was named to the NCCAA National Championship All-Tournament Team in April.
The male scholar-athlete of the year is Max Fortun of Men's Tennis. Max has always represented Judson well with high values and hard work. Every single year, Max has been a regular in the singles and doubles lineups. Max is constantly recognized by professors for his performance in different classes.
The Judson University Female Athlete of the Year is Sydnie Wolf of Women's Basketball. Wolf has been a solid leader on and off the floor. She can be found in the gym getting up extra shots and working on her game year-round. Wolf strives to better herself as well as challenges her teammates to do the same. She is an architecture major that gets to work in the classroom and her GPA qualifies her for NAIA and NCCAA Scholar-Athlete honors. She joined the 1000-point club this season, finishing her career with 1022 career points.
The Judson University Male Athlete of the Year is Brandon Mackey of Football. In Mackey's sophomore season, he set numerous Judson Football records and made a name for himself on the national scale. Brandon set the single-season rushing record and individual touchdown records in Judson's second season, running for 1,295 Rushing Yards and 13 Touchdowns. Mackey finished 5th in the NAIA in Rushing Yards, 3rd in Rushing Yards per Game, and 14th in Rushing TDs. He led the MSFA in Rushing Yards and Rushing Yards per Game. Mackey also earned MFSA Player of the Week 3 separate times. Mackey earned MFSA 1st Team All-Conference and All-American Honorable Mention.
The Athletic Department also gave 12 additional awards honoring character, faith, and athletic performance. The winners are listed below.
Champions of Character:
Women- Alyssa Gerzel, Women's Volleyball
Men- Negil Bruce, Football
Best Individual Performance:
Women- Paige Carpenter, Women's Bowling
Men- Brandon Mackey, Football
Faith in Action:
Women- Marisa Garcia, Women's Bowling
Men- Josh Hazelwood, Football
Newcomer of the Year:
Women- Cassandra Uribe, Women's Track & Field
Men- Dylan Bledsoe, Men's Track & Field
People's Choice:
Women- Ymani Britt, Women's Volleyball
Men- Elijah Wrobel, Men's Volleyball
Breakthrough Athlete:
Women- Alyssa Gerzel, Women's Volleyball
Men- Elijah Gregg, Men's Volleyball
Congratulations to all of the award winners!