Judson University celebrated 117 students who graduated at Judson's 88th commencement ceremonies held at 10 a.m. and 2 p.m. on Saturday, December 10, at Herrick Chapel on the Elgin campus.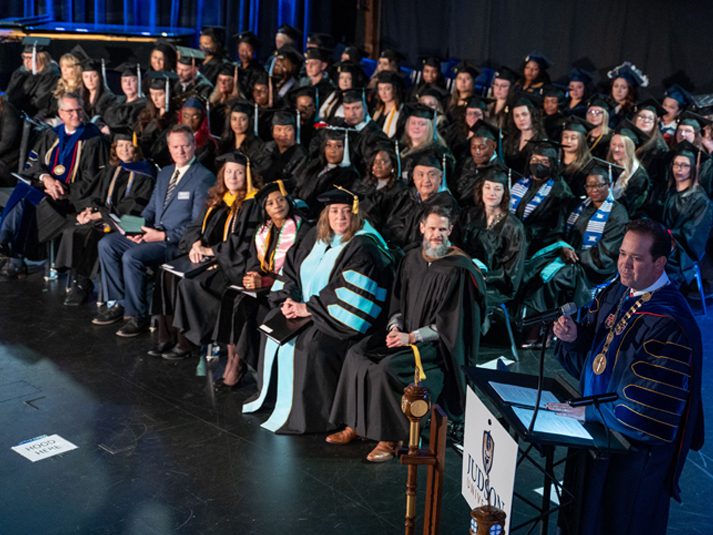 Dr. Adam C. Wright, president of Dallas Baptist University, gave the keynote address and congratulated the graduates on their achievements and encouraging attendees to take a moment to recognize this moment and being in this family of God. He commended the spirit of the university and the mission of Judson to be the church at work in higher education.
"One of the dominating impressions in my heart, while many of us have a lot of hope in you, [is that] we recognize that you are heading into a world that is struggling with hope," said Dr. Wright. He said this crisis of hope in the world is especially true for Americans, citing data from a 2021 study by APM Research Lab that found 84 percent of Americans are very worried about the future.
"While we have a great hope in you, we have an even greater hope in the God who has called you up and set you apart for a very special purpose in this fallen world," Dr. Wright said. He told of Arizona State University's research program that studies hope and shows the benefits of hopeful attitudes. Hope, he said, is looking forward to good things, such as Christmas. He listed several examples of hope from counting down the days until Christmas to courting his wife to one of his favorite movies, "A Christmas Story," which tells of a young boy, Ralphie, who hopes for a special Christmas present of a BB gun. He encouraged the graduates to place their hope in Christ for the future as He never disappoints.
Dr. Wright also encouraged the graduates to read God's word and discover the hope that is real. He cited Hebrews 10:23, Isaiah 41 and Jeremiah 29:11 which all outline God's hope and plans to give you a good future. As the graduates move on to work in their fields, Dr. Wright encouraged them to embrace Christian leadership and rest in the hope of a loving God.
During both commencement ceremonies, 117 students graduated, including 33 students in the Adult Bachelor's program and 38 students from the Traditional Bachelor's program, 7 students in the associate's program, 39 from the Master of Arts in Clinical Mental Health Counseling program, Master of Arts in Human Services Administration, Master of Arts of Business Administration, Master of Arts in Organizational Leadership, and Master of Education in Literacy.
In the morning ceremony, Judson recognized graduate Jennifer Lynn Furman of Rockford, Ill., with the President's Scholar Award – Adult Professional Studies Undergraduate. This award recognizes the graduating senior who has demonstrated distinguished academic achievement in the context of a Christian liberal arts program and adhered consistently to Judson's ideals. Furman earned her associate degree from Judson and is now graduating with her bachelor's degree in applied psychology. She plans to pursue a master's in the Clinical Mental Health program at Judson. While studying here, her faculty and peers noted her meticulous academic work. While she studied at Judson, she received dean's list honors and was inducted into the Alpha Sigma Lambda Society.
In the afternoon program, Psychology graduate Heavenly Marina Lizarazo of Carpentersville, Ill., received the President's Scholar Award – Traditional Undergraduate. This is the university's highest recognition for scholarship and honors the graduating senior in the traditional program who has demonstrated distinguished academic achievement in the context of a Christian liberal arts program and adhered consistently to Judson ideals.  Lizarazo is a psychology major who leaves an impact on all the lives she meets. Her faculty say she is vocal, questioning, challenging and has an eagerness to learn. While Lizarazo has faced many obstacles in life, she is resilient and strong in faith. Along with her studies, Lizarazo is a certified behavioral technician working with children aged 3 and older.
See photos from the event at: https://flic.kr/s/aHBqjAiJ4X
Watch the recordings from both ceremonies here.