Judson University welcomed trustees, former faculty, and volunteer service groups to the campus for the 60th annual Founders' Day on October 21. Throughout the day's celebration, the leadership of the University honored those who helped to establish Judson College in 1963.
Judson began as an undergraduate college in 1913 as part of Northern Baptist Theological Seminary. The university was named for Adoniram Judson, the first Protestant missionary sent from North America to preach in Burma. Judson established its Elgin location in 1963 and was renamed a university in 2007.
Judson's Founders' Day events began with a breakfast meeting of the Fox Valley Spiritual Council. Following the breakfast, Judson's guests and trustees attended the Founders' Day chapel.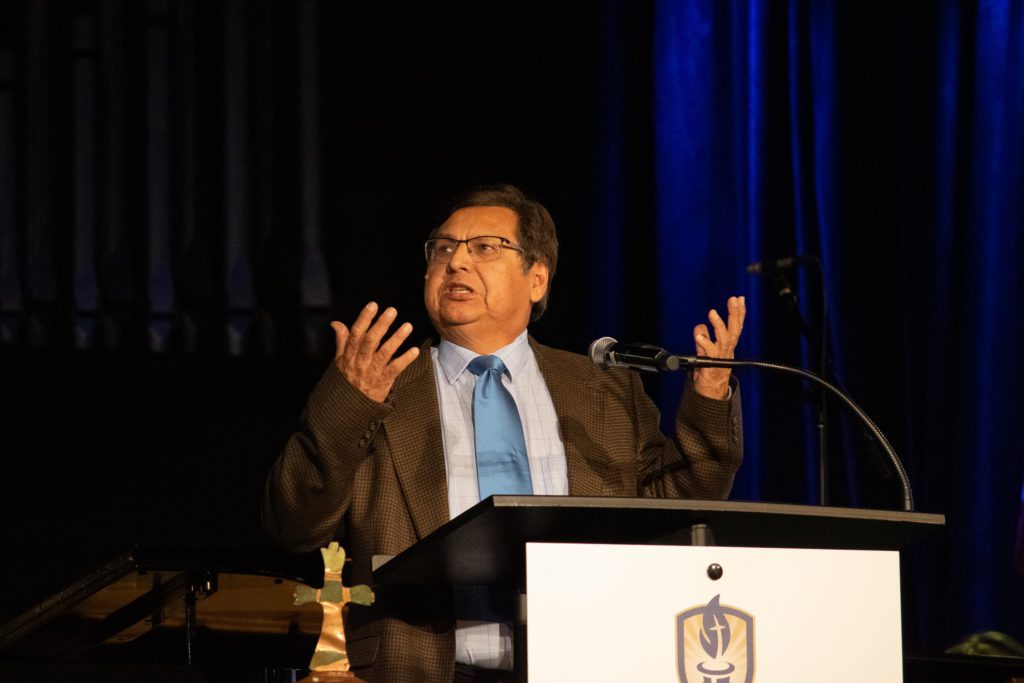 The chapel presentation from Rev. Huron Claus, pastor, and president of CHIEF Inc., a nonprofit organization dedicated to bringing the gospel to Native American People. Rev. Claus is a fifth-generation follower of Jesus Christ. He comes from the Mohawk/Kiowa tribes of New York and Oklahoma. The Claus Indian family has ministered through evangelism and music in Native communities and villages across North, Central, and South America. During Chapel, Claus recounted the biblical stories of Moses, Daniel, and the Apostle Paul as examples of leadership traits he encouraged students to develop. Each of these leaders, Claus said, demonstrated how to overcome personal concerns and self-perceived shortfalls by relying on their relationship with God to carry out God's larger mission.
"God is calling us to be leaders whether it is in the church, in our communities, or in our homes," Rev. Claus concluded. "I pray that God will fill you with his Holy Spirit."
During the Chapel presentation, Judson President Gene Crume also awarded Dr. Thomas C. Meredith with the Honorary Degree of Doctor of Law in recognition of his service to higher education. Dr. Meredith was a university president and head of three university systems. Most recently he served as Commissioner of Higher Education for Mississippi's university system of eight universities. In January 2002, he was appointed chancellor of the University System of Georgia, responsible for the state's 34 public colleges and universities. Prior to this appointment, he served as chancellor of the University of Alabama System, as well as president and professor of education at Western Kentucky University. He also was a vice chancellor at the University of Mississippi. He began his career as a high school teacher and later served as a high school principal.
Go to Judson's YouTube page to see a full recording of Judson's Founders' Day Chapel.
Golden Eagle Award Recognizes Devlin Donaldson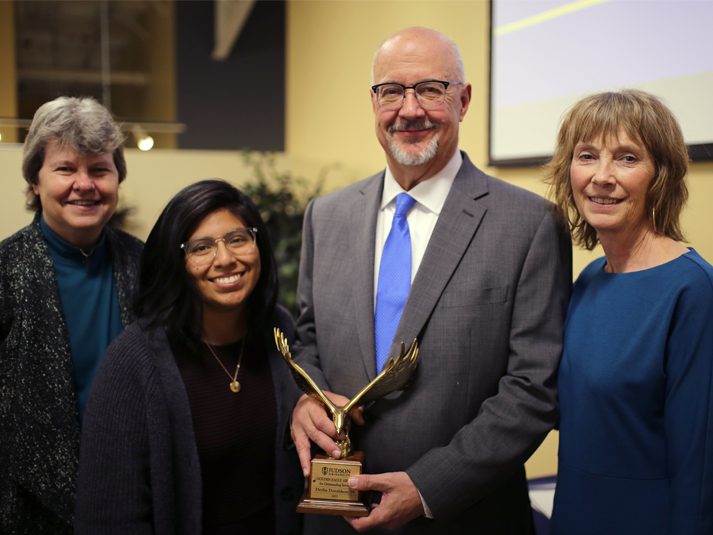 Following Chapel, Founders' Day guests attended a private luncheon and heard Judson President Gene Crume share ways that Judson celebrated Founders' Day and Baptist heritage week. Dr. Crume also recognized the work of Devlin Donaldson '79 with the Golden Eagle Award for his dedication and service to the university. The Golden Eagle Award is the university's highest service award.
Donaldson recognized the many attendees who were faculty and friends he met while he attended Judson. He said that these individuals and many others have become lifelong mentors and partners throughout his life. Despite its small size and unassuming campus, Donaldson thought that attending Judson was one of the best decisions he has made in his life. "This was really a place of community," said Donaldson, as he reminisced about attending college at Judson in the early 80s. Through connecting and interacting with faculty and staff, many of whom lived behind the campus, as well as experiencing the tragic passing of two students just weeks after starting his freshman year, Donaldson called his time at Judson special and life-changing.
"I could go on and on; a liberal arts education is so important. … This university didn't just teach me what to do, it taught me how to think," Donaldson said. "Whatever modest leadership skills I've had, I gained while I was here."
Donaldson graduated in 1979 with a degree in Human Relations from Judson University. He has a decades-long career of vision, breakthrough ideas, high impact, and leadership experience in both the not-for-profit and for-profit worlds. After earning his master's degree from Trinity Evangelical Divinity School, he joined Compassion International where he led the development of Compassion's music artist program and its sponsor ministry division. He reorganized several large segments of the ministry and served on the President's cabinet as Director of Marketing and Development. In 2001, Donaldson and his business partner founded The Elevation Group, a Growth Consulting firm based in Colorado Springs. From 2015-2018, Donaldson returned to serve at his alma mater, Judson University, as Senior Vice President of External Relations. He led projects focused on donor development, including providing leadership for the World Leaders Forum and the WLF Inspirational Series.
In July of 2018, Donaldson returned to his roots, accepting the position of President/CEO of VisionTrust International where he currently serves. A small child development organization in Colorado Springs, VisionTrust operates in 11 countries helping over 10,000 children. Donaldson lives in Colorado Springs with his wife, Carol.