Judson University is seeking nominations for the D. Ray Wilson Volunteer Service Award and the Bea Wilson Youth Service Award, which are presented each year at Judson University's Community Prayer Breakfast.
Both awards recognize candidates who have contributed to the greater good in the Fox Valley community by voluntarily serving others' physical, emotional, intellectual or spiritual needs. The recognitions will be given during Judson University's Community Prayer Breakfast, which will be held Friday, May 12, on Judson's Elgin campus (1151 N. State St.)
Last year, Judson honored Tom Roeser with the D. Ray Wilson Volunteer Service Award. Roeser is president of OTTO Engineering, a Carpentersville company that has grown to employ 500 workers and earn revenue of more than $95 million. Roeser has given back to the Carpentersville and East Dundee communities with this vision, leadership, and financial support.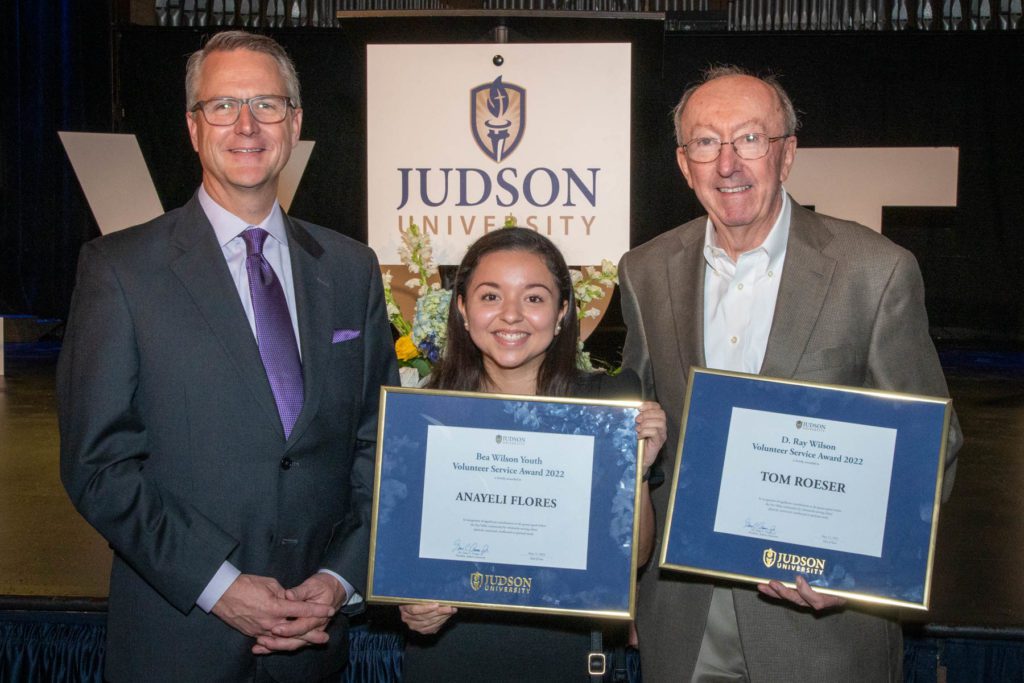 The Bea Wilson Youth Volunteer Service Award recognizes freshmen through juniors in high school in the Fox Valley for voluntarily performing community work that serves others physically, emotionally, intellectually or spiritually. The Bea Wilson Youth Volunteer Service Award winner will also receive a $3,000 scholarship annually to attend Judson University.
Last year, Judson awarded the Bea Wilson Youth Award to Anayeli Flores, a senior at Larkin High School. Flores has been on the honor roll and been a member of the Tri-M Honor Society and the National Honor Society. She also has run for the Larkin Cross-Country Team. Flores has served the community by volunteering at the Gail Borden Library since 2018 and at her community church. She has given more than 100 hours in community service by helping people in need. While at Larkin, Flores has been a leader and role model in the Little Royal Preschool program and has taken leadership roles with the Gail Borden Library's Summer Reading program.
The awards were named in honor of D. Ray Wilson, a former Judson trustee and publisher of the Courier News, and his wife, Bea Wilson, who was a community champion of hope, service and hospitality.
All nominations must be submitted by the deadline, Monday, April 17.
Nominations for the awards can be submitted at these links:
D. Ray Wilson Volunteer Service Award – JudsonU.edu/communityaward
Bea Wilson Youth Volunteer Service Award- JudsonU.edu/youthaward
Any questions about the Community Prayer Breakfast, award nominations, or sponsorship can be emailed to julie.schmidt@judsonu.edu. All nominators and nominees are invited to attend the prayer breakfast. Nominees receive a complimentary ticket to the breakfast.
General admission tickets are $30. Table sponsorships are $500 for businesses and non-profits and $300 for Church Table sponsorships with each receiving a table of eight guests. Tickets will be available beginning March 15. Find out more information at JudsonU.edu/prayerbreakfast.