Judson University celebrated 182 graduates during the 89th commencement ceremonies on Saturday, May 6. Former David C. Cook CEO Cris Doornbos gave the keynote address to graduates in ceremonies at 10 a.m. and 2 p.m. in Herrick Chapel on Judson's Elgin campus.
Doornbos is a 40-year veteran in the publishing, media, and educational spaces of music, books, and curriculum. He recently retired as the CEO of David C. Cook after investing 16 years of his life successfully re-imagining, re-investing, and re-inventing the three, very different business units, of music, books, and curriculum on a global scale. Doornbos also served for 22 years at Zondervan Publishers of Grand Rapids.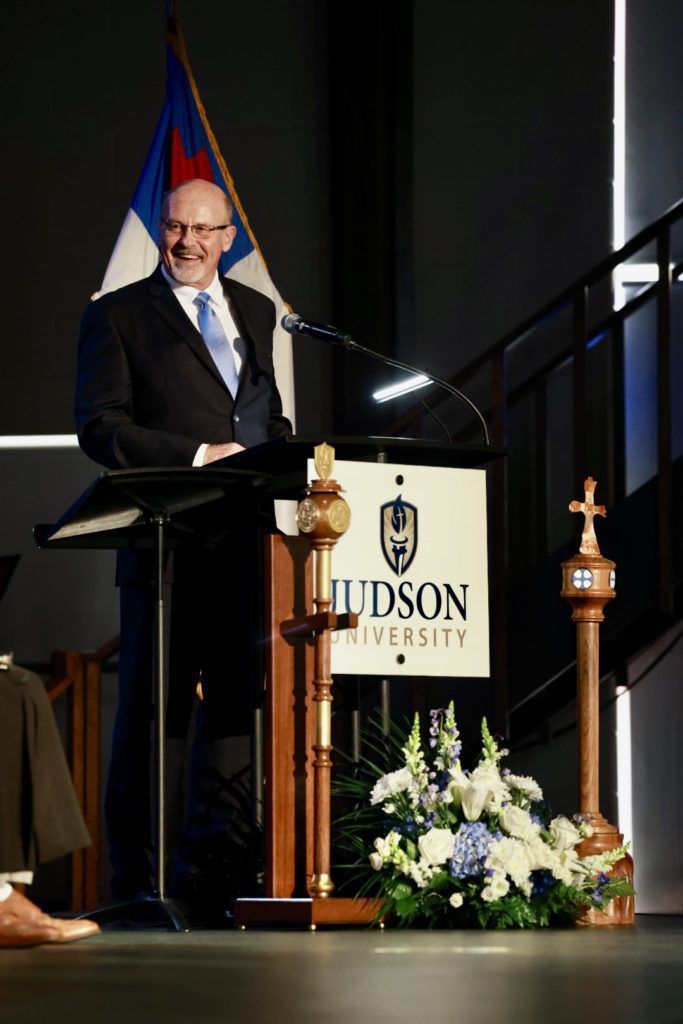 Doornbos congratulated the graduates and encouraged them to formulate their big dream, create a circle of counselors and listen for God's voice and spirit. He reflected on his own career in publishing using these three ideas as a touchpoint saying that his big dream was to follow the Great Commission.
"Each one of you can make your own significant contribution, regardless of the sphere you enter. Some of you will be in medicine, or media, religion or business, government, science, or arts. Whatever sphere you go into, you can still make a significant impact on the great commission. Whatever you do, do it will diligence and do it with great joy. Life is too short not to enjoy what you're doing," Doornbos said. He encouraged the students to follow these words as they listen for the spirit of God through the culture wars happening in social media and invited them to retain the Christian worldview they had learned while at Judson.
During the 10 a.m. commencement ceremony, 95 students graduated, including 23 from the Traditional Architecture and Art and Design programs, five from the Master of Architecture program, six from the Master of Arts in Ministry and Leadership, 11 in the Master of Arts in Clinical Mental Health Counseling and 50 from the Division of Professional Studies programs: Masters (MBA, Master of Arts in Organizational Leadership and Master of Arts in Human Services) and Adult Undergraduate (evening adult students) Bachelor of Arts and Associate of Arts.
At the 2 p.m. commencement program, 68 students graduated from the Traditional Undergraduate program and 11 from the Doctor of Education in Literacy (DLIT) program. During this service, Judson graduated eight students with a Certificate of Completion from the RISE (Road to Independent Living, Spiritual Formation and Employment) Program for students with intellectual disabilities.
Distinguished academic awards for excellence and leadership were presented to the following students:
Gwyneth Berry transferred into Judson's Architecture program and was awarded the President's Scholar Award-Traditional Undergraduate, which is presented to the graduating senior who demonstrates persistence and commitment. During her time at Judson, Berry appeared on the Dean's list each semester and was inducted into the Alpha Sigma Lambda Honor Society. Berry tutored many students in mathematics and physics. She also honed her digital skills and technical understanding through recent internships.
David Luna is a Business Administration major graduate who was awarded the President's Scholar Award, which is presented to the graduating senior who demonstrates persistence and commitment. Luna is a first-generation Latino and a Union Laborer from Elgin Local 582 who was inspired to pursue higher education from watching Dr. Rob Currie, a faculty member at Judson University. Luna's peers and faculty admired his academic excellence and drive to inspire others to pursue education and Christian values.
Malina Sanchez is an Early Childhood Education major graduate. She was honored with the President's Scholar Award-Traditional Undergraduate, which is Judson's highest recognition for scholarship and is awarded to the graduating senior in the Traditional Program who has demonstrated distinguished academic achievement in the context of a Christian liberal arts program. During her time at Judson, Sanchez was a member of the prestigious Roeser program and served as an officer in Kappa Delta Pi, the International Honor Society in Education. She also has been a Golden Apple Scholar, a program that supports exceptional students pursuing teaching in diverse settings in Illinois schools.
Both Commencement services were broadcast on Judson's YouTube Channel.
See the full Photo Album here: https://flic.kr/s/aHBqjACEt9