Judson University welcomes nine incoming freshmen and new members to the Judson Roeser Scholars Program. For the ninth year, the program provides leadership training and financial aid to students based on academic merit, leadership qualities, and financial need.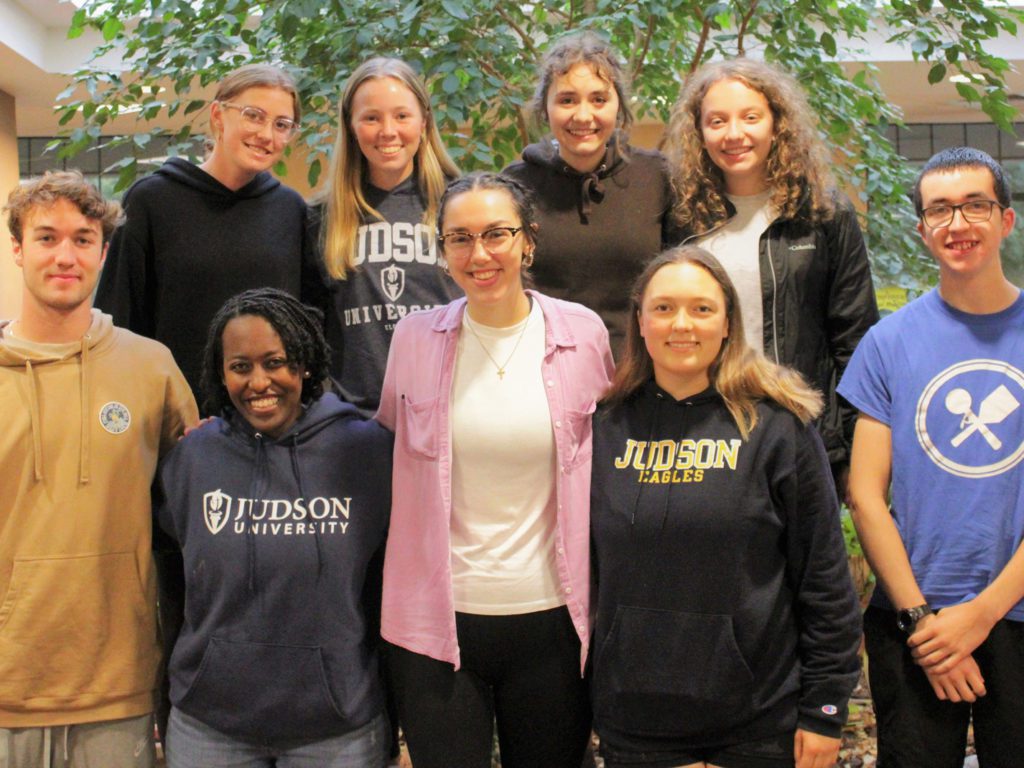 The 2022-23 Judson Roeser Scholars are (front row, left to right) Aiden Arnold of Ipswich, Mass., Hana Cunningham of Terre Haute, Ind., Michaela McTighe of Plano, Ill., Keilah Reinhart of Waunakee, Wisc., and Connor Richmond of Marion, Iowa; (back row, left to right) Grace Kidwell of Terre Haute, Ind., Emma Walberg of Belvidere, Ill., Christina Lundquist of Sugar Grove, Ill., and Catherine Hegewald of Eagan, Minn.
Judson University is grateful to OTTO Engineering, Inc.'s support in a 5-year commitment to deepen their partnership to this program. Through this collaboration, the Judson Leadership Program has now become the Roeser Scholars program. This is the most prestigious scholarship that a Judson University student can receive and a limited number of recipients are selected for this honor each year. To be eligible, students must demonstrate creativity, leadership, innovation, mission, and faith. They must also maintain good academic standing.
The Roeser Scholars have access to unique opportunities to cultivate their aptitude for leadership. They receive sponsored tickets to World Leaders Forum events and the opportunity to interview for the World Leaders Forum Internship position during their sophomore, junior and senior years at Judson. Each scholar also participates in monthly meetings with the World Leaders Forum Director and University President that cover a wide range of topics including entrepreneurship, leadership development, business etiquette, and networking. Often scholars hear from experienced leaders from a variety of fields at these meetings. As part of the program, students are invited to an exclusive VIP reception with Judson's president, global thought-leaders who participate in World Leaders Forum events, trustees, and distinguished alumni.