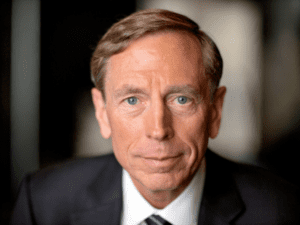 After a hiatus in 2020 due to the COVID-19 pandemic, Judson University announced today the return of the World Leaders Forum on Nov. 5, 2021, headlined by foreign policy expert and retired Gen. David Petraeus. Originally scheduled as the 2020 keynote speaker, Petraeus will mark the return of the World Leaders Forum and its 10th anniversary in a Q&A with distinguished Judson University alumnus Mark Vargas at the Renaissance Schaumburg Convention Center Hotel in Schaumburg.
"As the past year has demonstrated, we are living in a time of significant global challenges and we want to prepare our students and community members to lead on the world's stage," said Judson University President Dr. Gene Crume. "We are incredibly proud to welcome General Petraeus to kick off the return of the World Leaders Forum and celebrate a decade of this empowering and impactful program."
Now in its 10th year, Judson University's World Leaders Forum brings recognized world leaders to the Chicago area to provide an opportunity for Judson students and community members to be inspired by significant thought leaders. Previous keynote speakers include former President George W. Bush, former Russian President Mikhail Gorbachev, former United Kingdom Prime Minister Tony Blair, and most recently former U.S. Ambassador Caroline Kennedy.
Proceeds from the World Leaders Forum fund Judson's Roeser Scholars program, which provides leadership development, entrepreneurial initiatives, and higher education opportunities for youth in foster care.
"We believe that education is the great equalizer, and are thrilled that support from the World Leaders Forum can help make educational dreams a reality for youth in our community who face barriers," said World Leaders Forum board chair Mark Vargas.
Petraeus served 37 years in the U.S. military, including as commander of U.S. forces in Iraq and Afghanistan, before being appointed by then-President Barack Obama as the director of the Central Intelligence Agency in 2011. In civilian life, Petraeus now serves as chairman of the KKR Global Institute, an investment firm, and holds various roles supporting veterans service organizations. Vargas met the acclaimed general while serving as a civilian on a Department of Defense task force to stabilize Iraq through economic development, and they remain in close contact today.
The World Leaders Forum will be held off campus at the Renaissance Schaumburg Convention Center for the second time. A VIP reception with Petraeus will precede the program at 5 p.m., and the speaking program will begin at 7 p.m.
Tickets for general admission, premium admission and VIP experiences are available to the public now. For ticketing and sponsorship information, visit WorldLeadersForum.info.
ABOUT RETIRED GENERAL DAVID PETRAEUS
General David H. Petraeus served more than 37 years in the U.S. military, concluding his career with six consecutive commands, five of which were in combat, including command of coalition forces during the surge in Iraq, command of U.S. Central Command, and command of coalition forces in Afghanistan. Following his service in the military, Petraeus served as the director of the CIA during a period of significant achievements in the global war on terror. He currently serves as chairman of the KKR Global Institute, an arm of the global investment firm KKR. He is an honorary professor at the University of Birmingham in England and is a board member of the Institute for the Study of War, the Atlantic Council and more than a dozen veterans service organizations.
Petraeus has received numerous U.S. military, State Department, NATO, and United Nations medals and awards, including four Defense Distinguished Service Medals, the Bronze Star Medal for Valor, the Combat Action Badge, the Ranger tab, and master parachutist wings, and he has been decorated by 13 foreign countries.
Petraeus graduated with distinction from the U.S. Military Academy and subsequently earned a doctorate in an interdisciplinary program of international relations and economics from Princeton University's Woodrow Wilson School of Public and International Affairs. Click here to download a photo of Petraeus for publication.
ABOUT JUDSON UNIVERSITY
Located in Elgin, Illinois, since 1963, Judson University offers a Christian liberal arts and sciences education through its Bachelor of Arts degrees for more than 60 majors, minors, graduate programs, and online, as well as certification and accelerated adult degree programs.