Higher Learning Commission
Judson University is accredited by the Higher Learning Commission (HLC) and is a member of the North Central Association. Inquiries concerning Judson's accreditation may be directed to:
Higher Learning Commission – North Central Association
30 N. LaSalle, Suite 2400
Chicago IL 60602-2504
(800) 621-7440
Fax (312) 263-7462
Judson University's accreditation by the Higher Learning Commission was reaffirmed in December 2017. Judson is on the Open Pathway, which has ongoing assessment processes. Judson University is actively working on preparing its Year 4 Assurance Review and will undergo its next comprehensive evaluation during the 2027-28 academic year.
National Architectural Accrediting Board Information
In the United States, most registration boards require a degree from an accredited professional degree program as a prerequisite for licensure. The National Architectural Accrediting Board (NAAB), which is the sole agency authorized to accredit professional degree programs in architecture offered by institutions with U.S. regional accreditation, recognizes three types of degrees: the Bachelor of Architecture, the Master of Architecture, and the Doctor of Architecture. A program may be granted an eight-year term, an eight-year term with conditions, or a two-year term of continuing accreditation, or a three-year term of initial accreditation, depending on the extent of its conformance with established education standards.

Doctor of Architecture and Master of Architecture degree programs may require a non-accredited undergraduate degree in architecture for admission. However, the non-accredited degree is not, by itself, recognized as an accredited degree. Judson University, Department of Architecture and Interior Design offers the following NAAB-accredited degree programs: Master of Architecture (pre-professional degree + 42 graduate credits).
Council for the Accreditation of Counseling and Related Educational Programs
Judson's Master of Arts in Mental Health Counselors received accreditation in 2023 from the CACREP. CACREP Accreditation provides recognition that the content and quality of the program has been evaluated and meets standards set by the profession. The student, as a consumer, can be assured that appropriate knowledge and skill areas are included and that the program is stable, professionally and financially.
Consumer Information Links
---
Did you know…
99%
of undergraduate students attending Judson receive financial aid assistance
1100+
current students from 41 states and 29 countries
60+
Programs of Study are offered at undergrad, grad, and adult professional levels
Opportunities for All
Judson is one of the most innovative Christian universities that offers creative programs for students to earn college credit.
High School Prep Program
Earn college credit while still in high school.
Learn More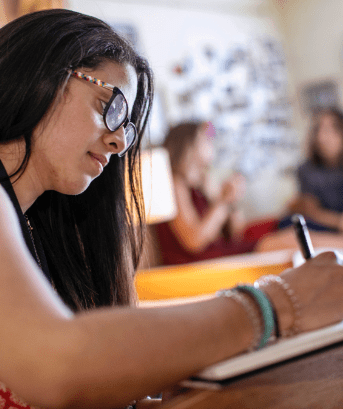 RISE Program
This unique program gives students with intellectual disabilities the college life experience in a Christian community and builds strengths for independent living and employment.
Learn More