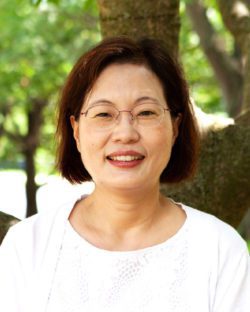 Sojung Hong
Professor
Korean-born pianist Sojung Lee Hong has appeared as a soloist, collaborative pianist, teacher, and church musician since her appointment to the music faculty of Judson University, a Christian liberal arts institution in the Chicago area. In the past decade, notable public appearances range from a solo recital at Seoul Arts Center, South Korea, to chamber music concerts in Mexico, Cambodia, and Peru.
 In additionto her international appearances, she has given over a hundred chamber music recitals with a wide variety of repertoire at performing art centers, universities, public libraries, and senior residences in the Chicago area. She has given lecture recitals at conferences such as the College Music Society Conference and the  Illinois State Music Teachers Association. In her home country, she has coached piano majors at the Summer Piano Workshop of SuwonWomen's College and has given applied lessons at the Eum-youn Summer Piano Academy & Festival. She has also served as an adjudicator in music competitions and scholarship auditions in Chicagoland  area and South Korea.  As Director of the Performance Certificate in Music program at Judson University, she organizes the annual scholarship benefit concerts and raises funds to support the education of talented music students. For the Chicago community, she has helped to organize benefit concerts for the Sejong Cultural Society, the Global Children Foundation, and Food for the Hungry International.
Hong holds both bachelor's and master's degrees from Seoul National University, South Korea (magna cum laude), and a doctoral degree in piano performance and literature from University of Illinois at Urbana-Champaign. Her piano teacher at UIUC was Ian Hobson, and her chamber music coaches included Peter Schaffer (violin), Suren Bagratuni (cello) and Eric Dalheim (vocal accompanying).  During her doctoral studies, she won first prize at the Irene Tintner International Piano Competition and was subsequently invited to perform with the Germania Orchestra in Michigan. She has regularly appeared as a concerto performer with Valley Civic Orchestra, North Shore Philharmonic Orchestra, Judson Civic Orchestra, and Elgin Community College Civic Orchestra. Her recent Mozart concerto performance was given at the fortepiano, a replica of a period instrument from Mozart's era, which was sponsored by Stateline Music Foundation. Currently, as Professor of Music at Judson University, she teaches applied lessons, piano ensemble, piano literature, pedagogy, and history & practice of worship music. She was honored as the recipient of the Margaret Hillis Award for the Arts at the 2017 YWCA Elgin Leader Luncheon. In 2017, she was also recognized by Judson University for her excellent  contributions to the music department over the years. 
DMA, University of Illinois at Urbana-Champaign

MA, BA, Seoul National University, South Korea
President Award, Seoul National University, South Korea

President Award (honored as valedictorian), Seoul Arts High School, South Korea

Ranked as Excellent Teaching Assistant at the University of Illinois at Urbana-Champaign

2017 recipient of the Margaret Hillis Award for the Arts

2017 recognition for valuable contributions to the music department at Judson University
College Music Society
Music Teachers National Association
Illinois State Music Teachers Association
Phi Kappa Phi
Pi Kappa Lambda