Questions?
Contact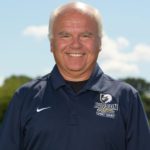 Tom Bienert
Global Outreach Coordinator, Assist. Spirit Squad Coach
In the spirit of our namesake, Adoniram Judson, missions are an integral part of the heart and soul of Judson University. Adoniram Judson was the first Protestant missionary sent from North America to preach in Burma where he remained for almost 40 years.
Each year, the University sends nearly 100 community members – students, alumni, faculty and staff – to various locations across the globe to serve others with Christ-centered love and to help spread the truth of the gospel message beyond the Judson campus. As students work on construction projects, minister to children, and connect with others, they share Christ's message with those they come across through their service and conversations, so that the Lord's kingdom will continue to grow and prosper.
Your prayers and financial support further the impact of Judson University's Global Outreach program and empowers students, alumni, faculty, and staff to participate in these extraordinary trips that shine Christ's light in the world.
To give to Judson's Global Outreach program or an individual Global Outreach trip, see below:
Past Trip locations include, but are not limited to:
Belize
Peru
Costa Rica
Dominican Republic
Kenya
Ukraine
Scotland
South Dakota
Jamaica