Judson University honored alumni for exemplary work in their careers, churches, and communities during the annual Alumni Banquet and Alumni Awards Ceremony held on September 23 as part of its Homecoming celebrations.

The Alumnus of the Year Award is given to recognize alumni who have made significant contributions to the Church and to society. The 2022 Alumnus of the year is Rev. Patrick Parks.
Rev. Patrick Parks of South Elgin, graduated from Judson University in 2019, with a Bachelor of Arts degree in Christian Ministries.  He began his theological education while working full-time and transferred to Judson in 2017 to complete his degree. As part of his studies at Judson, he interned with Second Baptist Church (SBC) of Elgin. Following his internship, he was called to be the ninth pastor ordained to lead SBC since its founding in 1866. Under Rev. Parks' watch, SBC has implemented the SBC Sister Circle, Friday Word of the Week, and begun meaningful partnerships with the Food for Greater Elgin and the Willow Creek Community Church Mobile Food Pantry. Rev. Parks sits on several other significant committees within the city, such as the African American Christian Ministers Alliance, Committee of Elgin's Religious Leaders, U-46 Faith Leaders, and the Daily Herald Sounding Board. Rev. Parks worked for 32 years with the U.S. Postal Service before resigning to serve as pastor of SBC.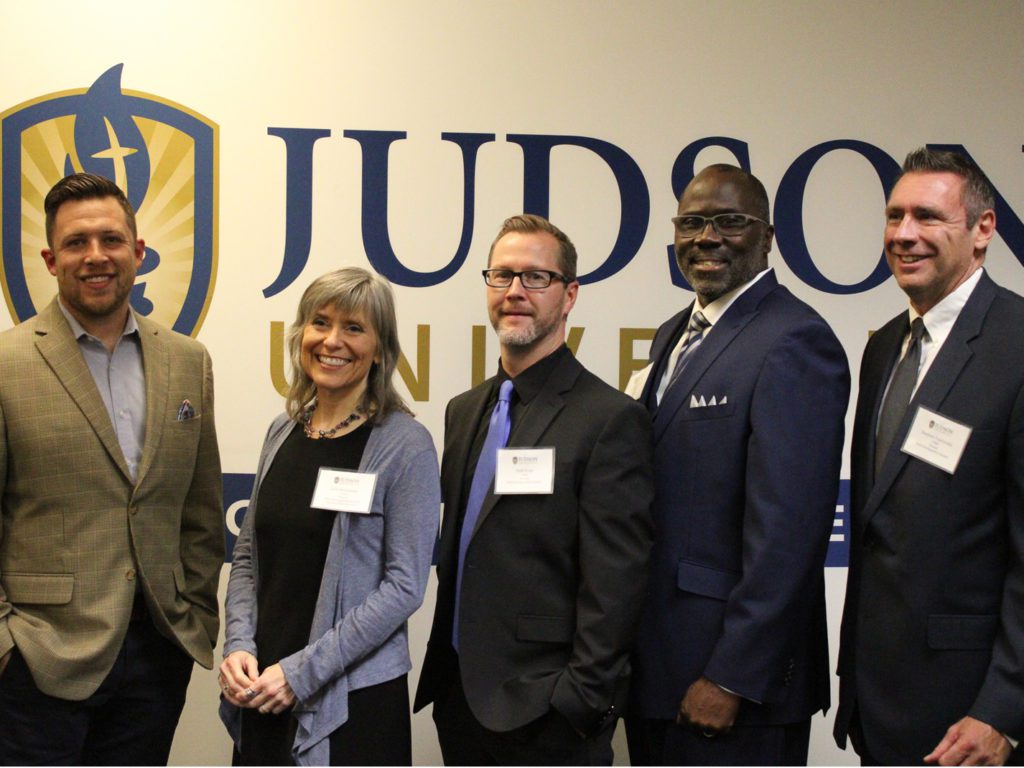 The Distinguished Alumni Award is given to recognize alumni who have made outstanding contributions to their profession and community as they model excellence in their vocation. Judson's 2022 Distinguished Alumni honourees include:
Benjamin Carr of Mount Sterling, Ky., graduated from Judson University in 2009, with a Bachelor of Arts degree in Architecture. Today, Ben is a non-profit professional with a passion for working with youth development and community-based organizations including Boys & Girls Clubs, HandsOn, and 4-H. In 2015, he received the Boys and Girls Club of America Best Practice in Resource Development Award for the State of Illinois. As the Kentucky 4-H Foundation's Director of Advancement, he and his team have increased the organization's average annual operating budget by 50 percent, secured over $6 million for new swimming pools and storm shelters at four camps, and started the Foundation's annual black-tie gala generating over $600,000 in new revenue across five years.
Joshua Guge of Elgin, Ill., graduated from Judson College in 2002, with a Bachelor of Arts degree in Visual Communication. Josh and his father, Bob, founded the Guge Institute in 2004, to share and promote the art of wood sculpture around the world, as well as educate and inspire students in their own artistic endeavors. The Guges received National recognition for winning World level competitions at prestigious sculpting competitions around the country. After Bob's passing in 2013, Josh continued the family legacy of creating and promoting the arts. Today, he is a three-time world champion wood sculptor. As an art teacher, he has worked with thousands of students in more than 25 states around the country. He also teaches regular classes at his studio in Elgin.
Lori Heiselman graduated from Judson College in 1993, with a Bachelor of Arts degree in Psychology. Lori specializes in entertainment publicity, strategic marketing, mobile marketing, and promotional events. Based in Nashville, she has spent her career representing outstanding talent in music, writing, and film to the faith and family market. She founded Biscuit Media Group, which began as a concert promotion company. Now, nearly three decades later, Biscuit has evolved into a boutique media group that exists to shine a spotlight on start-up companies, independent filmmakers, musicians, and creatives. In the film and TV space alone, Lori has worked on the campaigns for 68 titles and counting. She just completed her first stint as an Associate Producer on an upcoming TV series.
Dr. Stephen VanOsdale graduated from Judson College in 1988, with a Bachelor of Arts degree in Biology. He then went on to graduate from Parker University with his Doctor of Chiropractic degree in 1993. Upon his graduation, he moved to Lubbock, Texas, and established his own practice, Boston Chiropractic. Steve serves on the Board of Directors for the Texas Chiropractic Association for the past seven years as the Internal Affairs Coordinator. He was also named Doctor of the Year in 2019 by the Texas Chiropractic Association.
Steven has been the owner of Lubbock Integrated Medical Institute for more than seven years, using a multidisciplinary model to approach healthcare and working with medical doctors, nurse practitioners, podiatrists, and physical therapists to provide the highest level of care with the newest technology. His mission in practice has always been, "Patient-centered…Results-driven."
Judson also recognized the Rev. Gary Nelsen Family with its Family Legacy Award. Rev. Gary Nelsen and his wife, Janie, have been involved in Judson University in several ways.  Rev. Gary Nelsen has served as the Assistant Pastor at First Baptist Church (FBC), Elgin with former Pastor Willis Reed. Throughout his work, at FBC Elgin he has been able to connect with and serve several Judson Students. During his career, he took on many roles to serve his community at large. Being a former pastor of Cherry Hills Church, located in Springfield, Ill.  Janie has been involved with Judson University in several ways. She has served as a past parent and has been a part of the Friends of Judson, a women's board that works to organize and assist the University through several outreach programs including hugs from home and several other fundraisers that go to fund university scholarships. The Nelsen's three children have all attended Judson: Pastor Jeff Nelsen '83, Dr. Scott Nelsen '85, and Kristen Tinch '87. Pastor Jeff Nelsen currently serves as the Senior Pastor at Cherry Hills Church alongside his wife, Patricia Nelsen.  Dr. Scott Nelsen, has served his community as the Medical Direct and full-time missionary at CURE International Santo Domingo RD. Dr. Scott Nelsen's son graduated from Judson University in 1997.