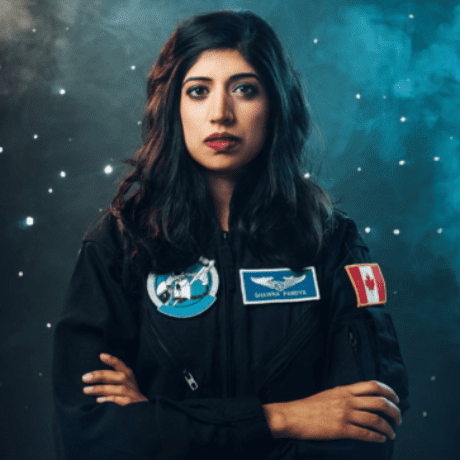 The World Leaders Forum Inspirational Series will welcome Dr. Shawna Pandya, a physician surgeon, citizen scientist, and astronaut candidate from Alberta, Canada to Judson University in Elgin. The main event will be held at 5 p.m. Thursday, Oct. 12, at the University's Herrick Chapel, 1151 N. State Street in Elgin. Entrepreneur Jacqueline Ruiz will host this event. Tickets are on sale for general and VIP admission.
The event with Dr. Pandya is the fifth Inspirational Series event and the second developed and hosted by Jacqueline Ruiz, an entrepreneur, author, and Latina pilot. Previous Inspirational Speakers at the event have included Hispanic actor and director Edward James Olmos magician Jim Munroe in 2017, Olympic champion Mary Lou Retton in 2016, and Australian-American Christian evangelist and motivational speaker Nick Vujicic in 2015.
"Dr. Pandya is an example of someone who isn't afraid to go beyond the boundaries with her dynamic exploration of space, neuroscience, medicine, and even uncharted waters," Ruiz said. "In our conversation, audiences will resonate with the resilience and perseverance she has experienced in her personal and professional pursuits. Judson University is proud to have her join its distinguished list of Inspirational Speakers."
"Judson University is honored to host Dr. Pandya as part of the World Leaders Forum Inspirational Series and to learn more about what inspires and motivates her to explore the realms of science and space. Her story demonstrates how education opens previously unimaginable career paths and how a life-long love of learning fosters creativity and innovation," said Judson President Gene Crume.
Proceeds from this event will fund leadership, entrepreneurship, diversity, and RISE program scholarships for students at Judson University. Beginning at 3:30 p.m., VIP ticket purchasers can attend an hors d'oeuvres reception and will have a meet-and-greet photo opportunity with Dr. Pandya prior to the event.
Tickets start at $50. For more information, visit www.2023WLFInspiration.eventbrite.com
About Dr. Shawna Pandya:
Dr. Shawna Pandya is passionate about the two 'extremes' of humanity – surviving and thriving. She's interested in furthering technological innovation and human knowledge and tackling humanity's grandest challenges to affect positive social change.
After leaving her career in neurosurgery she went from repeatedly telling herself "I am an absolute disgrace," to gaining a new sense of being.
In her talks, Shawna talks passionately about resilience and the lifelong learning she came to embrace from her time with sociopaths, Navy SEALs, martial arts, medicine, astronauts, and from her father.
She successfully completed Scientist‐Astronaut Candidate training in 2015 with Project PoSSUM (Polar Suborbital Science in the Upper Mesosphere) and was part of the first crew to test a commercial spacesuit in zero gravity.
In 2016, Shawna was named as prime crew for Project Poseidon, which aims to further ocean and space exploration, while setting a world record for "most days spent under the sea." She also received the Global Women of Vision Award in 2016.
Preparing for space requires more than just knowledge — it involves an incredible amount of mental and physical agility. Outside of her work, Shawna continues to further develop these skills through martial arts. She holds a black belt in taekwondo, a sport she's been practicing for over 15 years. She has also traveled to Thailand annually since 2015 to train in muay thai.