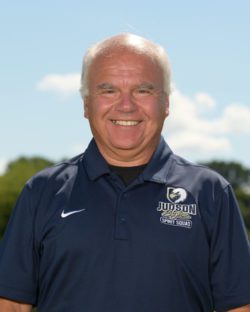 Tom Bienert
Global Outreach Coordinator, Assist. Spirit Squad Coach
Tom Bienert is currently the Global Outreach Coordinator where he helps spiritually shape student's lives by encouraging them to serve together in culturally diverse settings. He loves seeing students' lives impacted and transformed because of going on mission/service trips.
Tom Bienert has been part of the Judson Community since 1999 when his oldest daughter became a freshman. Tom's wife, Bonnie, has served at Judson for over 20 years as the Alumni Director and currently as the Executive Assistant to the President. Six of Tom and Bonnie's seven kids graduated from Judson between the years 2003-2016.
With his wife Bonnie, Tom serves as an Assistant Coach on the Judson Spirit Squad. In addition, Tom is an Adjunct Professor teaching Communication and Gen 101 Classes.
Previously, Tom ministered at Willow Creek Community Church for 18 years as a Group Life Pastor in Promiseland. In 1997, Tom and Bonnie founded Christian Youth Theater-Chicago. In his free time, Tom enjoys coaching baseball, playing pickleball, swimming, and playing pool volleyball with Bonnie, his children, and his grandchildren.
BS in Journalism- University of Maryland, College Park
MA in Theological Studies- Capital Seminary and Graduate School
Communication, Mission Trips, Spiritual Formation, Spiritual Gifts, Team Building, Coaching
Christian Youth Theater
Willow Creek Community Church
Global Leadership
Become New