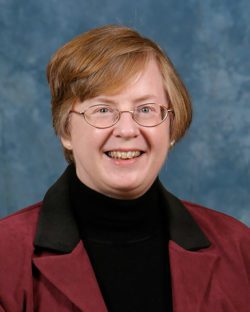 Janet Riehecky
Adjunct Faculty
A part-time writing instructor at Judson, Janet Riehecky teaches both expository and creative writing. She is also a freelance writer for children. She published her first book, Sharing, in 1988 and since then has published 134 books for children.
Her work includes both fiction and nonfiction and ranges from preschool picture books to science, history and biography for elementary-age students. Her twenty-four volume series Dinosaurs! won the 1989 Summit Award for Best Children's Nonfiction, and her Tasmanian Tiger was a 2008 Junior Library Guild selection. In fiction, she has done a series of fairy tale rewrites and several mystery novels. She also writes for the ACT exam.
Janet earned a B.A. in English Education at Illinois Wesleyan University; an M.A. in Speech Communication at Illinois State University; and an M.A. in English Literature from Northwestern University.
Janet is married and has one son. She loves to read, is active in her church, and volunteers her time with the American Baptist Church's White Cross. She is a dedicated member of an extra-curricular writers' group for Judson professors and students. She also loves dinosaurs. On a dig in western Colorado, she dug up the first bone found of a previously undiscovered dinosaur, Mymoorapelta
She served two terms on the Midwest Board of Mystery Writers of America (MWA), and she worked as the National Director of MWA's literacy outreach, Kids Love A Mystery, from 1998 to 2004. She has been a Network Representative for the Society of Children's Book Writers and Illustrators (SCBWI) since 2008. She is a member of SCBWI, MWA, and the Society of American Magicians. She is a popular speaker in elementary schools.