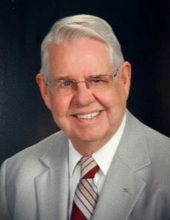 Judson mourns the passing of Rev. Dr. Malcolm "Mac" Shotwell, an Emeriti Trustee, on Sunday, April 23, 2023. Mac was 90 years old. He joined the Trustee Board in 1980 and received an Honorary Doctor of Divinity from Judson College in 1990. Mac's first daughter Donna Shotwell was killed in a car accident along with Marc Didier in 1975, her freshman year attending Judson University. His second daughter, Paula Shotwell graduated from Judson in 1982.
An ordained American Baptist pastor, Mac served as pastor of First Baptist Churches in Cuba and Olean, N.Y., and Galesburg, Ill. His ministry was extended to being an Area Minister for American Baptist Churches in Pennsylvania and Delaware, and Regional Executive Minister for churches in Illinois and Missouri.
He authored Creative Programs for the Church Year; Renewing the Baptist Principle of Associations; Memoriae Gratae; a chapter in "The Baptists in the Balance" and two dramatic monologues: "Our Neighbors, the Lincolns: A Clergyman Remembers" and "Mrs. Lincoln, a Vindication." Most recently, he authored "Come, See…Go, Tell," a study on the final sayings of Jesus after Easter.
Since "retirement," Mac has served area churches as interim and supply pastor, disaster relief coordinator for American Baptist Men, volunteer at the Old State Capitol and Abraham Lincoln Presidential Museum, mentor of living history projects with students from Iles School, and as a volunteer congregation care pastor at Springfield First United Methodist Church.
A visitation reception will be held on Saturday, May 13, from 9:00 – 10:30 a.m. with A Celebration of Life service to follow at Springfield First United Methodist Church, 2941 S. Koke Mill Rd., Springfield, Ill.
In lieu of flowers, memorials may be given to the Marc Didier/Donna Shotwell Scholarship Fund or to the Springfield First United Methodist Church.
https://www.lincolnlandcs.com/obituaries/Rev.-Dr.-Malcolm-Mac-Shotwell?obId=27806380#/celebrationWall