Center for Christian Values, Democracy, & Capitalism
NEW ACADEMIC CENTER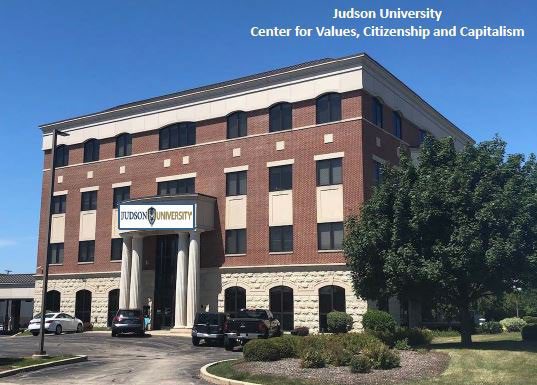 Judson University is happy to announce a deepening partnership with OTTO Engineering, Inc. through a five-year commitment totaling $1.25 million to create the Roeser Scholars program. This investment helps Judson's highest academic scholarship program by offering leadership training and financial aid to deserving scholar and honor students based on academic merit, leadership qualities, and financial need.
OTTO Engineering recently made an additional investment of $721,000 for the development of a curriculum at Judson focused on Christian Values, Democracy, and Capitalism. Enhancements to the Roeser Scholars program, as well as the greater student body, include developing a deeper understanding of the foundational principles of the democratic system of government, capitalism, and personal values. Each semester, both leadership and academic track students will study these three perspectives through programming to broaden their knowledge and appreciation, as well as special learning opportunities through University events.
Building on this firm foundation, we envision a new center that creates a broader dialog about these foundational principles throughout our curriculum and expanding university offerings, such as campus speakers that engage the greater Chicagoland community.
EMPOWERING STUDENTS
The mission of the Center for Christian Values, Civic Engagement, and the God's Economy is to promote academic scholarship and student engagement in the foundational principles of our country.
How to Give
There are a variety of ways to create a scholarship at Judson University and many gift vehicles to accomplish your goals. You can find out more about your gift options at www.judsonu.edu/waystogive. Below are two common gift types:
Endowed: Gifts to an endowed scholarship/fund will be invested by Judson University in the endowment fund. Endowed funds are perpetual funds from which grants are given annually. A gift of $10,000 or more can establish an endowed scholarship or fund. The corpus of an endowed scholarship/fund remains in perpetuity to provide ongoing support for years to come.
Non-Endowed: Gifts to a non-endowed scholarship/fund will be put to use immediately and administered to students by the Judson University's Director of Financial Aid. A donor can specify an athletic team where their gift can be used. A minimum gift of $2,000 is required to establish a non-endowed scholarship or fund.