Equal Access Scholarships
TYPES OF SCHOLARSHIP SUPPORT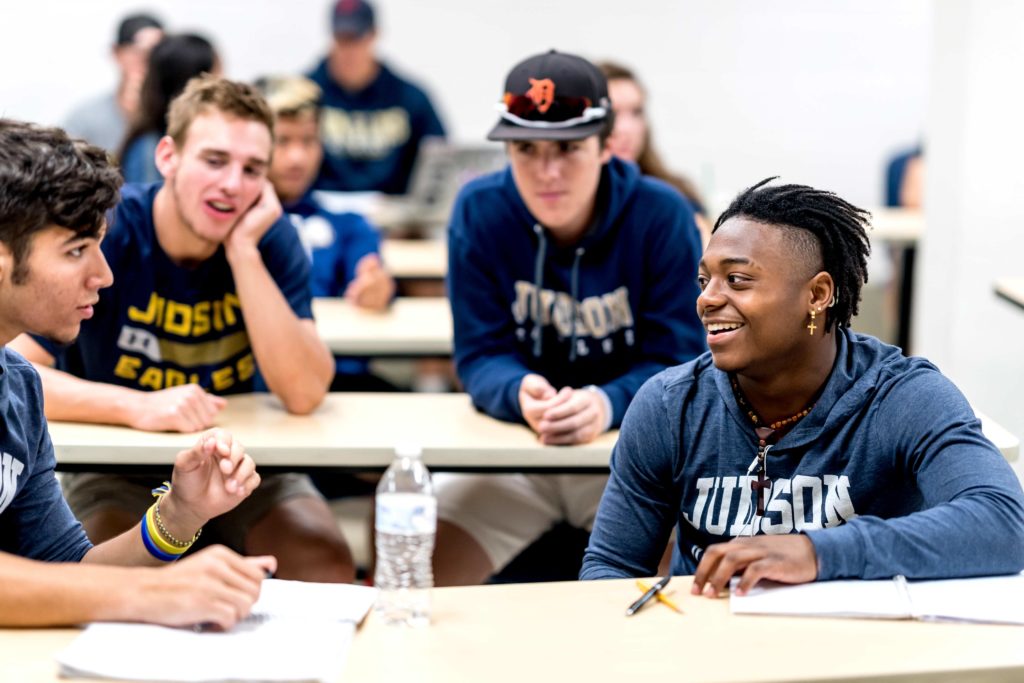 Equal Access scholarships promote more diversity and student participation at Judson University. Specifically, Judson wishes to increase the recruitment, retention, and graduation of a diverse student body.
In order to extend our efforts around diversity and inclusion, Judson has identified some specific departments that traditionally experience less opportunity for underrepresented or marginalized groups. Equal Access scholarships in the following departments will help students who may not ordinarily have the ability to achieve their academic goals, realize their dreams:
Our architecture program aspires to be aglobal leader in architectural education and Christian service to better serve our students and community. We offer a Bachelor of Arts in Architectural Studies (BAAS) and Bachelor of Arts in Interior Design (BA). Students have an opportunity to study abroad in Europe, allowing them to study the masters of architecture and develop the fine arts required within the field.
Your gift allows students to gain first-hand experiences and learn from experienced professors who want to see our students succeed and pursue world-changing careers.
Judson's Computer Science program prepares students for a career in computer andnetwork intelligence, and security. Students acquire both the technical skills and problem-solving strategies to provide solutions to real-world problems.
Your gift can assist more students, who otherwise would not be able to afford this opportunity, to realize their dreams of successfully completing their Computer Science degree. Students are taught from a Christian perspective and learn the fundamentals of information security and intelligence, security infrastructure and design and implementation, computer and network forensics, and security requirements on business operations.
The Business department at Judson University supports and prepares students for the challenges and rewards of the business world. Through internships and unique events, such as the Chicago Auto Show and Shark Tank, students can gain first-hand experience of what the dynamic and global business environment is like. Students are able to choose one of three majors: Bachelor of Arts in Accounting, Bachelor of Arts in Management, or Bachelor of Arts in Marketing. We also offer seven minors and certificates to provide a more focused education or earn a credential in business while majoring in a different discipline.
Our aim is to serve students through engaging classrooms, practical business experience in Chicagoland, and provide opportunities for students to apply their knowledge and skills. You play an integral part of that mission. Thank you for partnering with our students to make these invaluable experiences accessible to our students.
Our Department of Exercise and Sport Science prepares students for a variety of careers in Sport Management and Health and Wellness. Students canchoose from one or two majors: A Bachelor of Arts in Sport Management or a Bachelor of Arts in Health Promotion and Performance.
Our sport management and health promotion and performance curricula have been newly revised and are data-driven so that the courses our students take align with core competencies that are highly marketable and desired by employers. For students looking for a career that incorporates the love of the game with the need to succeed, Judson University provides the perfect complement of courses to launch our students into successful careers. Thank you for making our students' dreams a reality!
We also offer specific scholarships in departments not listed above, based on a specified field of study. Contact department heads for more information and to learn more about what exact scholarships are offered for students. Students who excel in their field of study qualify for scholarships to further encourage and reward their hard work and talent.
Judson University historically Judson Athletics competes nationally in the National Association of Intercollegiate Athletics (NAIA) and the National Christian College Athletic Association (NCCAA). Locally, our teams compete in the Chicagoland Collegiate Athletic Conference (CCAC) and the Mid-States Football Association (MSFA). Our athletic programs are committed to excellence both on and off the field of competition.
Our athletic teams and individual students consistently receive regional and national recognition for their athletic success as well as honors such as Athletes of Character, All-Academic Honors and Community Service awards.
If you would like to specify a specific athletic team for your gift, please note it in the donor comment field. Thank you for your support of our student athletes!
The RISE Program (Road to Independent Living, Spiritual Formation, and Employment) is something that is very unique to Judson, offering a post-secondary education for students whoare intellectually differently abled. Students who qualify for this program are able to engage with person-centered planning, career-oriented curriculum, internships and employment opportunities that match skills and interests, dorm-style living with traditional students, purposeful integration into the campus community, support from qualified student advisors, and a Certificate of Completion in Liberal Arts with a subject area of concentration.
Many students who have intellectual disabilities aren't presented with an opportunity to further their education and pursue their career goals and the RISE Program provides them with that opportunity.
PRIORITY FOR EQUAL ACCESS SCHOLARSHIPS IS GIVEN TO:
Students with demonstrated financial need.
First generation college students.
Members of an underrepresented or marginalized group (including but not limited to underrepresented racial populations, women, low income and individuals with disabilities.)
Students who have overcome personal, social, and/or physical obstacles pursuing an education and/or be from a living environment or academic setting that may have hindered educational pursuits.
Empowering all Judson students to succeed
The RISE Program at Judson University empowers students aged 18-25 with an intellectual disability to pursue a college education, in a Christian community, and to build upon strengths for independent living and integrated competitive employment.
How to Give
There are a variety of ways to create a scholarship at Judson University and many gift vehicles to accomplish your goals. You can find out more about your gift options at www.judsonu.edu/waystogive. Below are two common gift types:
Endowed: Gifts to an endowed scholarship/fund will be invested by Judson University in the endowment fund. Endowed funds are perpetual funds from which grants are given annually. A gift of $10,000 or more can establish an endowed scholarship or fund. The corpus of an endowed scholarship/fund remains in perpetuity to provide ongoing support for years to come.
Non-Endowed: Gifts to a non-endowed scholarship/fund will be put to use immediately and administered to students by the Judson University's Director of Financial Aid. A donor can specify an athletic team where their gift can be used. A minimum gift of $2,000 is required to establish a non-endowed scholarship or fund.