RISE Program
RISE: Road to Independent Living, Spiritual Formation, and Employment
The RISE Program
The RISE Program at Judson University empowers students aged 18-25 with an intellectual disability to pursue a college education, in a Christian community, and to build upon strengths for independent living and integrated competitive employment.
About a decade ago, God placed the vision for an inclusive, residential college experience for differently-abled students with an alum of Judson University. In 2016, she combined efforts with another Judson alum and staff member to create the RISE Program (Road to Independent Living, Spiritual Formation and Employment).
Since that time, the RISE Program at Judson University grew to offer students the ability to live on a Christian campus while they learn about their gifts and explore the ways they can make a meaningful impact in the world. Using education, employment and independent living, our RISE students have student advisors for residential living, learning and vocational training. The RISE Program is now the largest employer of Judson traditional students.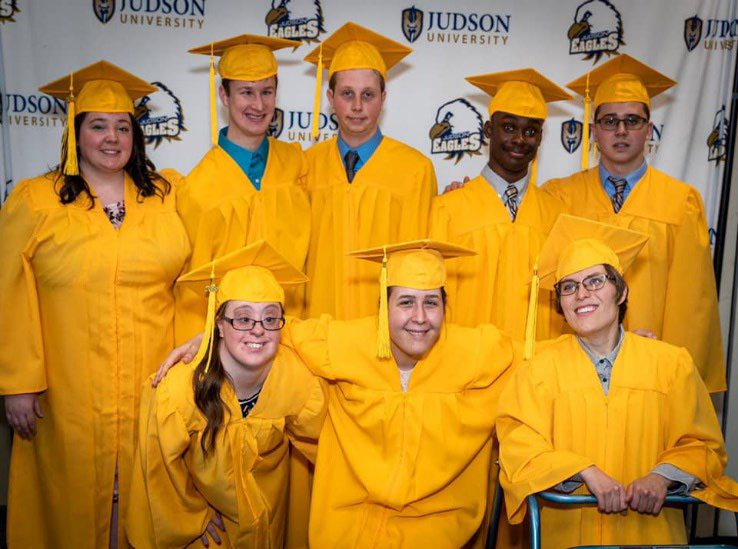 RISE Students have the opportunity to live out their gifts through internships both on campus and in the community. We are always looking for community partners to provide internships!
The first graduating cohort took place in May 2019 (pictured above) and launches approximately 8-12 students into employment and increased independence each year. RISE students have not only been transformed, they have transformed the entire Judson community.
A new third and fourth year extension of the program, called RISE UP, recently developed to assist students further in their employment through paid internships and more independent living opportunities.
Families with students who have special needs often do not consider the opportunity their children may have for post-secondary education, simply because not many programs exist. That means families have not saved for their children to go to college. We find one of the greatest needs our parents face is the ability to afford this experience for their children. We've established several scholarships for the RISE Program and hope to build on that success further by creating additional endowed funds.
The future of the program envisions a new RISE headquarters and housing facility on Judson's campus. A location has been identified between the Lindner Fitness Center and Barton House.
The new headquarters envisions both living as well as program space. The program areas would include an ADAA compliant learning center for RISE students to build their independent living skills, as well as a location to host events and social activities with their peers.
Additionally, this location provides the opportunity for RISE graduates to live in a safe community and have access to Judson's campus for job opportunities. Ultimately, the vision holds a place for 10-12 RISE students to live and/or work on campus.
Lastly, we believe God has an even bigger vision for the RISE Program. We would like to share our model with other institutions around the country so even more students can develop their gifts and be more independent.
RISE Program Expansion Budget
| | |
| --- | --- |
| Annually | $250,000 |
| Endowed Scholarships | $1,000,000 |
| Apartment Renovations | $50,000 |
| Headquarters | $8,000,000 |
| Program Replication | $50,000 |
Road to Independent living Spiritual Formation and Employment